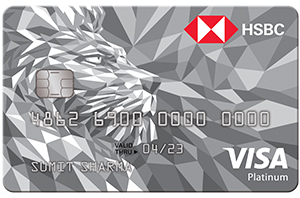 Why choose Visa Platinum Credit Card?
The HSBC Visa Platinum Card offers you unsurpassed offers and rewards, with instant recognition and exclusive privileges. Take the first step towards a world of incredible experiences.
Key features
Nil joining and annual fees

Introductory benefits up to INR4,350 with 3 complimentary airport lounge access at domestic & international lounges or 3 AirDine (meal)vouchers

Air miles conversion on InterMiles, British Airways and Singapore Airlines

5-times (5X) rewards on subsequent purchases made after crossing spend amount of INR400,000 with a max 15,000 accelerated reward points in an anniversary year

Up to INR3,000 annual savings on fuel surcharge
Introductory offers
New credit card customers can receive following welcome privileges on transaction(s) of a minimum INR2,500 within 30 days of card issuance:

Vouchers
Amazon voucher (worth INR500)
Swiggy voucher (worth INR250)
3 complimentary airport lounge access at domestic & international lounges or 3 meal-vouchers*
* For the use at airport restaurants in India

Introductory offers are valid on Visa Platinum Credit Cards from 16 August 2023 to 31 December 2023.
Additional benefits
Zero-liability for lost cards

In case your HSBC Visa Platinum Credit Card is lost, you will have no liability for transactions made after reporting and registering the loss of the card to HSBC. You are also covered for misuse of your HSBC Visa Platinum Credit Card up to 24 hours before reporting and registering, for up to INR300,000.

Emergency card replacement

If you lose your HSBC Visa Platinum Credit Card, you can call Visa Global Assistance Services or HSBC Helpline numbers and have your card cancelled and an emergency card issued anywhere in the world in 3 days. You can also opt to receive emergency cash at over 22,000 outlets globally.

Insurance benefits

All insurance benefits listed above are provided directly to credit cardholders by ICICI Lombard General Insurance Company Limited, whose terms, conditions and decisions, for which the Bank is not liable, will apply. Claims for settlement to be sent directly to ICICI Lombard General Insurance Company Limited. All insurance benefits on the

credit card

are available for valid primary cardholders only.

Other benefits

Regular card benefits like cash advance, additional credit cards, global access, online convenience, 24x7 customer access through Phone Banking. Refer to the

Credit Card Services Guide

for complete details and terms and conditions.
Apply for HSBC Visa Platinum Credit Card
Complete your credit card application online & win an Amazon e-gift voucher worth INR250. T&C Apply
Frequently asked questions
How do I apply for an HSBC credit card?
How can I check my credit card application status?
How long does it take to receive an HSBC credit card?
How can I check the status of my credit card consignment?
Will I be charged a foreign transaction fee if I use my credit card overseas?
New to Bank Credit Card Application- communication Terms and conditions
This Offer ('Offer') is brought to you by The Hongkong and Shanghai Banking Corporation Limited, India ('Bank') and is made available on the website amazon.in or mobile site or mobile application thereof (collectively, 'Amazon.in') by Amazon Pay (India) Private Limited ('Amazon') and any participation is voluntary.
Offer Terms and Conditions ('Offer Terms') are in addition to the amazon.in 'Conditions of Use & Sale' and 'Privacy Notice' to which you agree to, by using amazon.in and Terms and Conditions of HSBC Credit Cards. In the event of any conflict between the Conditions of Use & Sale and these Offer Terms, these Offer Terms will prevail, only for the purposes of this Offer.
This Amazon e-Gift voucher offer is provided by The Hongkong and Shanghai Banking Corporation Limited, India (HSBC) to Resident Indian customers (hereinafter referred to as "credit card applicant") who have participated in the offer. Each qualifying credit card applicant who has completed Video KYC is entitled to an Amazon e-Gift voucher of INR250 (Offer).

The offer is valid for successful completion of Video KYC after completing online credit card application by self during the period 15th February 2021 to 30th June 2023 (Offer Period).
This is a limited period Offer and HSBC in its sole discretion reserves the right to alter, modify, change or vary all or any of these terms and conditions or to replace, wholly or in part, this Offer by another Offer, whether similar to this Offer or not, or to withdraw it altogether at any point in time by providing appropriate intimation to the Cardholder.
The Amazon e-Gift voucher (WinPin code) will be sent to your email ID provided in the online credit card application, within 45 days of end of the offer i.e. 14th August 2023.
All decisions with respect to the Offer shall be at the sole discretion of HSBC and the same shall be final, binding and non-contestable. Other than the specific entitlements available to the Cardholders under this Offer, any other claims with regard to this Offer against HSBC are waived.
Credit card applicants are not bound in any way to participate in this Offer. Any participation is voluntary and the Offer is being made purely on a best effort basis.
Nothing herein amounts to a commitment by the Bank or Amazon to conduct further, similar or other Offers.
Issuance of the credit card is at the sole discretion of the Bank and is subject to the Bank's internal approval norms.
By participating in this Offer, every credit card applicant expressly agrees that Bank and Amazon will not be liable or responsible for any loss or damage whatsoever that a Cardholder may suffer , directly or indirectly, in connection with the Offer including but not limited to that associated with his/her use or delivery or misuse of the Product(s). The existence of any dispute shall not, by itself, constitute any claim against HSBC.
The Bank does not make any warranties or representations as to the quality, merchantability, suitability or availability of the product and services offered under these Offers. Any dispute regarding these must be addressed in writing, by the Cardholder, directly to Amazon.
Prior to using the Amazon website and/or the mobile app, the Cardholder should refer, read, understand, accept and agree to the user agreement and Terms and Conditions of the said website and the mobile app, and proceed only if the Cardholder agrees to abide by the same. The Cardholder will be required to give personal information and other details online. The Cardholder should read and understand the privacy policy of the website and the mobile site, prior to providing any such information. Any disclosure of information made by the Cardholder towards availing of or fulfilment of the Offer is at the sole discretion of the Cardholder and the Bank shall not be responsible for the same. Amazon may use the personal information shared by the Cardholder for any other purpose (like marketing, etc.) and the Bank will not be held liable for such usage of personal information by Amazon Products offered under this Offer are subject to availability with Amazon and HSBC will not be liable for non-availability of any of the products.
The Offer is subject to force majeure events.
These Offer Terms are governed by the laws of India and the courts at Mumbai will have exclusive jurisdiction over any matters/disputes arising out of or in relation to these Offer Terms.
Any person availing this Offer will be deemed to have accepted these Offer Terms.
Voucher Terms and Conditions:
The E-Gift Voucher is valid for a period of 6 months from the date of issuance.
E-Gift Voucher cannot be reloaded, resold, transferred for value or redeemed for cash.
E-Gift Voucher cannot be used to purchase other gift card.
E-Gift Voucher cannot be used on any of the partner sites including Junglee.com.
E-Gift Voucher cannot be used to purchase any other type of digital content such as apps.
E-Gift Voucher cannot be transferred from one account to another once the claim code has been added.
Amazon may change (add to, delete, or amend) these terms from time to time. Unless stated otherwise, the changes will apply to any new Amazon E-Gift Voucher that are for personal, non-commercial use and enjoyment only. The same may be shared with family and friends, but may not be advertised, sold or used as promotional items by the purchaser or anyone else without Amazon's prior written consent.
Amazon E-Gift Voucher cannot be replaced, refunded or revalued. It cannot be exchanged for points or cash and cannot be re-validated.
HSBC does not make any warranties or representations as to the quality, merchantability, suitability or availability of the products or services offered under this Offer. Any dispute regarding delivery, service, suitability, merchantability, availability or quality of the products/services availed under this Offer must be addressed in writing, by the customer directly to amazon.in.
Tax liability, if any, will be borne by the Cardholder.
By using the E-Gift Voucher, the Cardholders shall be deemed to have accepted all the aforementioned Terms and Conditions in totality.