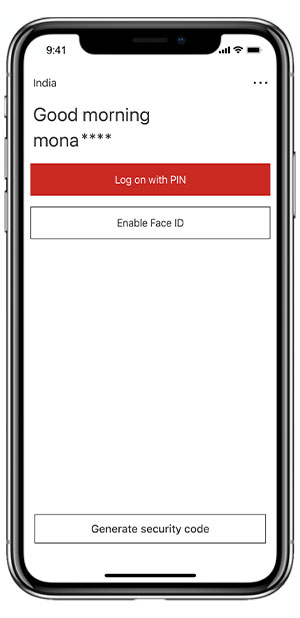 HSBC India Mobile app
Online banking registration: Register through the app using your phone banking number or PAN

Log on easily with 6: digit PIN, Face ID or Touch ID

Digital Secure Key: Generate security codes you need to log on to online banking or verify transactions more securely

View all your HSBC global and local accounts in one place

View and download your latest statements

Move Money: add new beneficiaries for domestic and international payment quickly and securely. Make local and international transfers to over 230 countries and territories

UPI payment services: a quick and easy way to send and receive money

Chat with us: Tell us what you need help with, it's as easy as texting a friend

PIN reset: Reset your credit card PIN at your convenience, anytime, anywhere

Manage your card limit: Take control of your spending and manage your card spends your way, for all types of domestic & international transactions anytime

Real Time Transaction: Get real time updates of your credit card transactions

Use Loan on Phone feature to pay off multiple credit card transactions with one installment plan

Cash-on-EMI: Create your own Cash-on-EMI plan in only a few clicks to enjoy quick and hassle free access to cash.

Apply for personal loan and open fixed deposit account in a few steps

HSBC Wealth Dashboard: Review your investment performance with ease and swiftly manage your transactions in one place

Wealth Management Account opening: Eligible customers can apply for an investment account online and access new wealth opportunities
Already have online banking?
Download our app and explore our services right away.

Not registered for online banking?
Open the app and accept the T&Cs.
Then tap 'Not registered for online banking' and the app will guide you through the rest. You'll have the option to register using either:
your PAN (Permanent Account Number) email address and SMS OTP
or your phone banking number, date of birth and SMS OTP.

Then set your 6-digit PIN and your Digital Secure Key will be activated.
Need help? Check out our step by step guide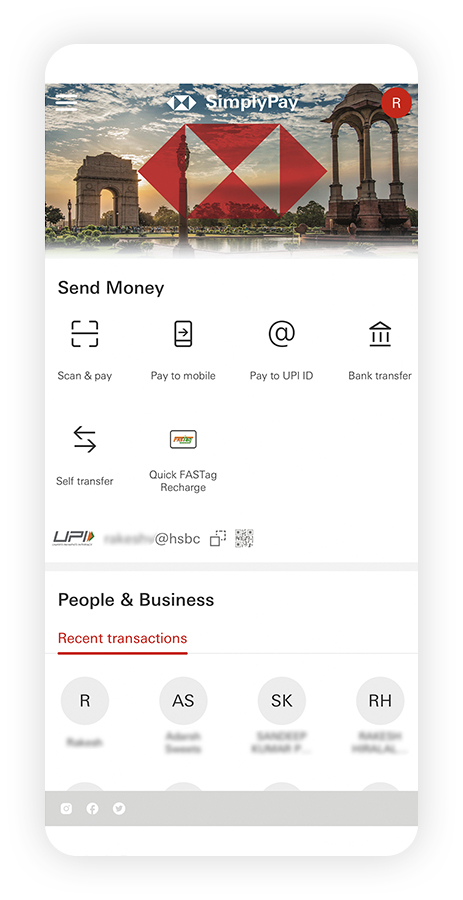 HSBC SimplyPay app
Download the app to enjoy the following:
Access to your money 24/7

Simple user interface for managing your money

Instantly send or receive money

Make transfers using your mobile number and Unified Payments Interface (UPI) ID

Make payments using QR code scanning, a mobile number, virtual payment address, or account number / IFSC code

Secure your information and your transactions with our advanced security features
Switch to digital payments with the HSBC SimplyPay app
We currently support general service queries and provide information on our products and services through this channel.
You can still use the HSBC India Mobile Banking app, available 24/7, for account transactions and related queries.
Start your conversation with us on WhatsApp in 3 easy steps:
Save our official WhatsApp number +91 86558 58111 to your phone contacts.
Open WhatsApp on your phone and search for this newly added contact.
Text 'Hi', accept the terms and conditions and you are live!
WhatsApp messages are secured with end-to-end encryption. To find out more, please refer to the privacy policy on the WhatsApp website.
Frequently asked questions for WhatsApp services
What is HSBC providing via these services?
I'm not an existing HSBC customer. Can I still register for your WhatsApp services?
Will I be charged any fees for using these WhatsApp services?
Are these WhatsApp services safe and secure?
How do I subscribe to these WhatsApp services?