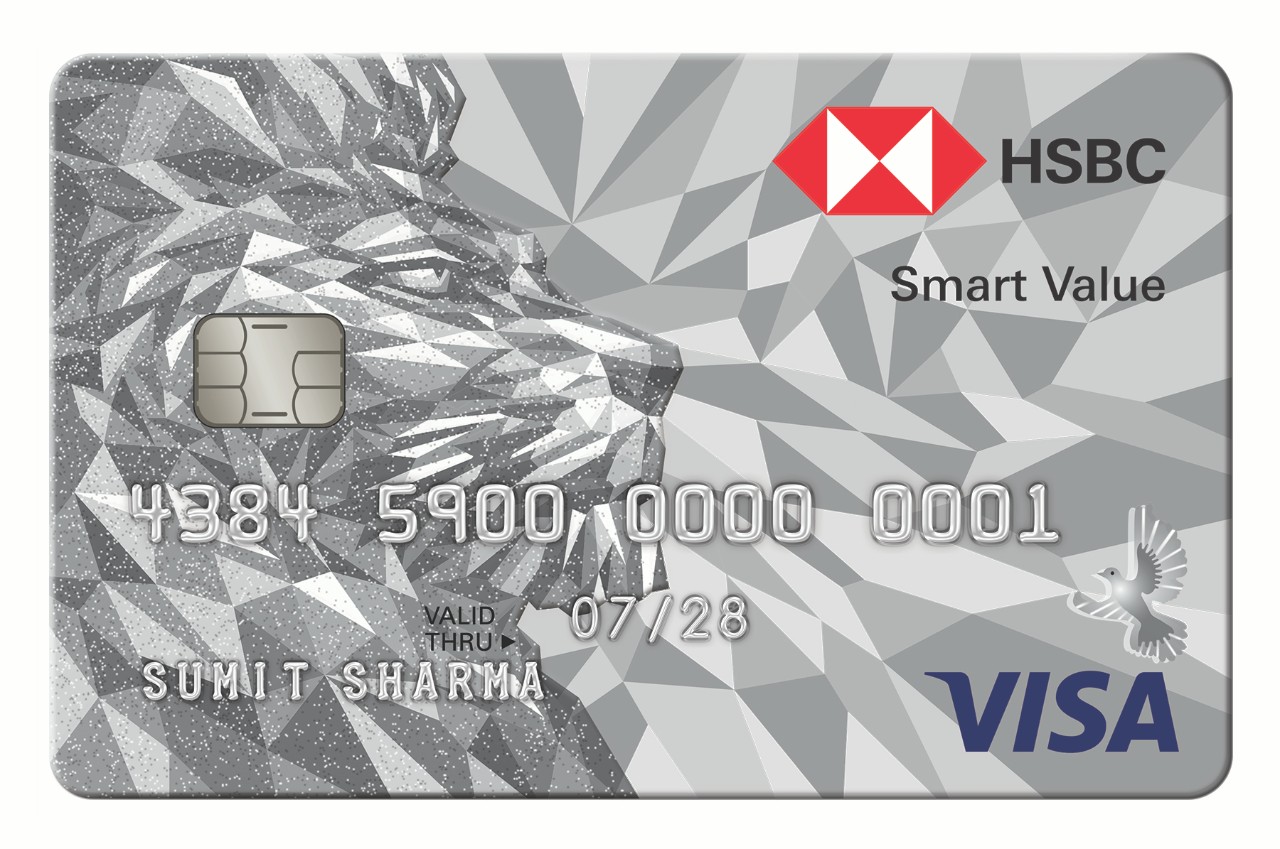 Why choose a Smart Value Credit Card?
Different people look at our credit cards differently. With special money saving features and time saving services, it could be the perfect way to save money for all the precious things you always desired or a convenient way to make time to do more. Get ready to enjoy more.
10% cashback of up to INR1,000

Attractive instalment plans at 10.99% p.a. for EMI products booked within first 90 days of card issuance - applicable to loan on phone, balance transfer on EMI and cash on EMI

Dynamic Finance Charge interest rates starting from 2.99% p.m., going down to 1.99% p.m. based on credit history & repayment behavior

INR200 BookMyShow voucher on spending more than INR15,000 a month

3X rewards on online, dining and telecom categories
Fees and charges:
No joining fees
Nil annual fees
Ways to open:
Complete your credit card application online & win an Amazon e-gift voucher worth INR250.
Introductory offers
Welcome benefits
The introductory offers are valid on HSBC Smart Value Credit Cards from 01 July 2020 to 31 December 2020.

Get Amazon Voucher worth INR500 on a single transaction of greater than or equal to INR500. The first transaction to be done within 30 days of the card being issued.

Get 10% cashback for making a minimum of 5 purchase transactions, totalling to INR5,000 or more during the first 60 days of issuance subject to a maximum cashback of INR1,000. Eligible cashback will be credited within 60 days after completion of 60 days from credit card issuance.
Attractive installment plans at 10.99% per annum for E.M.I. products booked within first 90 days of card issuance - applicable to loan on phone, balance transfer on EMI and cash on EMI.

Exclusive privileges
Entertainment offer
Get a BookMyShow voucher worth INR200 on spending over INR15,000 in a calendar month. Cardholders can receive vouchers worth up to a maximum of INR1200 in a calendar year (1st January to 31st December) under this offer. Eligible Cardholders will receive the voucher within 30 days from the end of the calendar month in which the transaction has been done. Each voucher is valid for 30 days from the date of dispatch of the communication with the voucher details.

Rewards program
Get 1 reward point for every INR100 spent.
Reward points can be redeemed for a host of gifts and vouchers available on our rewards catalogue.
Reward points validity for 2 years.
Earn 3 Times Rewards (3X) on all spends on online, dining, and telecom categories. (Capped at 1,000 incremental Reward Points per month).
Other privileges
Dynamic Annualized Percentage Rate (APR)
The interest rate on the Smart Value Credit Card is dynamic, starting from 2.99% per month (35.88% per annum) that can go down up to 1.99% per month (23.88% per annum) depending upon the customer's risk profile.


Rate of interest is subject to the Bank's periodic review post 6 months of card issuance and will be decided based on the performance of the customer on existing HSBC products and information related to other lending products, received from the credit bureau.

Nil fees
Nil joining and annual fees.

EMI products on your card (low interest options)
Your HSBC Credit Card gives you a convenient way to manage your payments, transfer your balances on EMI and to borrow cash and repay in instalments at a lower interest rate. HSBC has a host of low interest EMI options to choose from:
Cash-on-EMI
Balance Transfer
Loan-on-Phone
Balance Conversion
Instant EMI
Alliance offers
Apply for an HSBC Smart Value Credit Card
Apply today
Submit an application form online today

New to Bank Credit Card Application- communication Terms and conditions
Other terms and conditions
The facility of accessing your Current / Savings Account with your credit card from HSBC will be provided only when specifically requested by you.
Issued by The Hongkong and Shanghai Banking Corporation Limited, India (HSBC). Incorporated in Hong Kong SAR with limited liability.

Issuance of credit card is at the sole discretion of The Hongkong and Shanghai Banking Corporation Limited, India and is subject to terms and conditions and external and internal checks/verification. The above features and benefits are subject to terms and conditions. Please visit www.hsbc.co.in for details.